Magnetic Resonance Imaging (MRI)
MRI uses radiofrequency waves and a large powerful magnet to produce clear, detailed images of internal organs and tissues. Radio waves are used to systematically alter the alignment of this magnetization, causing the hydrogen atoms to produce a rotating magnetic field detectable by the scanner. This signal can be manipulated by additional magnetic fields to build up enough information to reconstruct an image of the body. The technology is helpful in diagnosing a wide range of conditions throughout the body including the abdomen and pelvis. Since MRI can show great soft tissue details, it is an invaluable tool in cancer diagnosis, staging and treatment. MRI provides a detailed image of the organs inside the abdomen and pelvis such as liver, kidney, spleen, pancreas, reproductive organs and abdominal vessels.
Abdominal MRI with numerous gallstones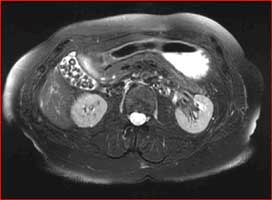 One of our specialty exams includes MRI defecography used to assess the rectum and pelvic floor structures. We are the only center to offer such an exam in the Tampa Bay area.
MRI defecography is a painless MRI examination that provides information on the function of the rectum, and the surrounding organs such as the bladder, vagina and small bowel. It analyzes the pelvic muscles, specifically their strength and control.
Functional disorders of the pelvic floor are considered a common clinical problem. Diagnosis and treatment of these disorders, which manifest as nonspecific symptoms such as constipation or incontinence, remain a difficult process. MRI defecography has been shown to aid in detection of functional and morphologic abnormalities of the anorectal region, including the opening of the anal canal, the function of the puborectal muscle, and the descent of the pelvic floor during increased intra-abdominal pressure. MR defecography is also helpful in assessing the anorectal morphology and function in relation to surrounding structures without exposing the patient to ionizing radiation.
Sagital image of the pelvis during MRI defecography